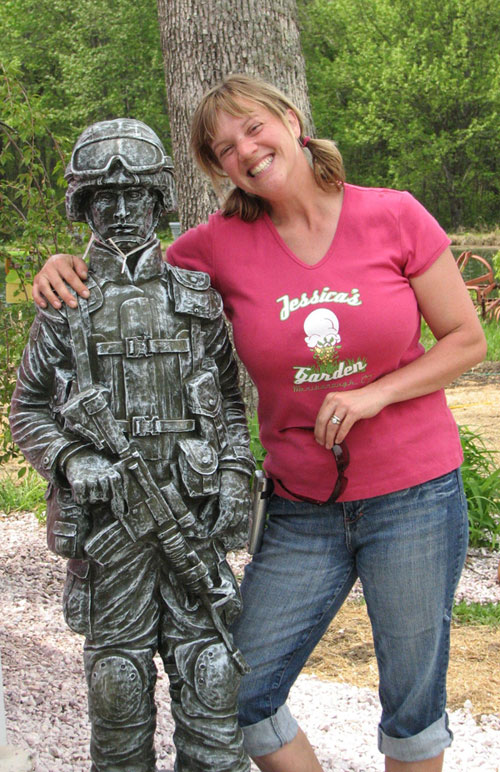 Jessica Carroll, owner of Jessica's Garden, is an award-winning landscape designer who brings her knowledge of landscape design and horticulture to her clients.  Jessica has studied Arboriculture with the Connecticut Tree Protective Association.  She has earned her Certified Landscape Manager's license from the University of Massachusetts Green School, a comprehensive training school for the green industry.  She is an accredited Nursery Professional with the Connecticut Nursery and Landscape Association.
Jessica has been licensed by the Connecticut Agricultural Station as a Certified Landscape and Garden Design Consultant.  Prior to forming Jessica's Designed Landscapes, she was the landscaping foreman at the Tournament Players Club (TPC), River Highlands, in Cromwell, Connecticut, which hosts the PGA Tour every summer.  In 2000 Jessica and her staff won Landscape of the Year of all the TPC courses nationally.  Jessica possesses a knowledge of plants and trees and a reverence for nature that you will find nowhere else.
The Jessica's Garden Family
At Jessica's Garden, we have a strong commitment to customer service and believe that our most satisfied customers are those who make informed purchase decisions. By sharing our knowledge with you, we also share in your excitement as you nurture your landscape and gardens. As a family-owned and -operated business, you are sure to experience the continuity of our service commitment. Whether you are dealing with Jessica or Matthew Carroll, or other knowledgeable family members, we welcome adding you to our list of satisfied customers.