Lobster & Ice Cream Shack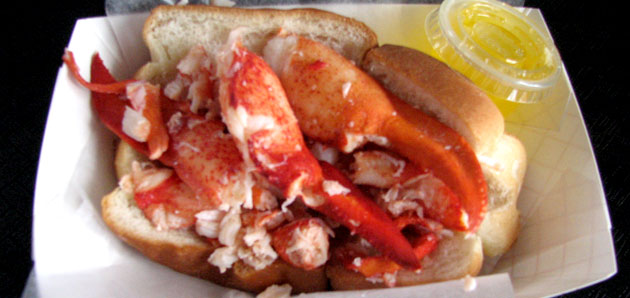 Classic Lobster Rolls $11.99
Your choice of hot buttered or cold salad style (mayo & celery). Both are served on a grilled New England style roll. Served with your choice of potato chips or cucumber slices.
Lobster Salad Croissant $13.99
Lobster salad served on a grilled croissant with lettuce. Choice of potato chips or cucumber slices.
Lobster Salad Melt $7.99
Lobster salad inside a grilled cheese sandwich.
Lobster Mac $13.99
Creamy mac & cheese blended with the same sweet and delicious lobster meat that we use in our lobster rolls.
Crab, Scallop & Shrimp Cake $5.99
Delicious grilled seafood cake served on a bed of lettuce and a side of our spicy boom boom sauce.
Pulled Pork Sandwich $5.99
Lightly smoked pulled pork with a side of BBQ sauce served on a grilled croissant.
Chourico sausage $3.99
Grilled spicy Portuguese chourico served with mustard and raw onions on a grilled New England style roll.
Cucumber Sandwich $3.99
Cucumber slices and American cheese with a wasabi dressing served on a grilled New England style roll.
Grilled Cheese Sandwich $2.99
Classic and delicious, buttered and grilled.
Mac & Cheese $4.50
8 oz serving Creamy, rich and delicious
Add Lobster $8.99 Chourico $3.50 Hot Dog $2.50
Grilled Pearl Brand Hot Dogs $2.99
We split and grill them for the best flavor. Served on a buttered and grilled New England style roll. Choice of free toppings, Ketchup, plain or spicy mustard, pickle relish, hot pepper relish, onions and kraut. Add .$50 for cheese
2 Dog Special $5.99
2 Grilled Pearl Dogs, a bag of chips, and a can of soda or bottle of water.
Kid's Meal Frisbee Deal $6.99
Choice of Hot Dog, Grilled cheese, Grilled croissant w/peanut butter or cucumber sandwich. Served with Chips or cucumber slices on a Jessica's Lobster Shack Logo Frisbee you keep, and a token for a free kids ice cream
Ice cream dishes
Kids $2.25 | Small $2.99 | Large $3.99
Bring home a pint $5.99
Wafer cone add $.15
Sugar cone add $.25
Waffle cone add $1.00
Doggie dish $2.25
Vanilla ice cream and a milk bone
20oz. Smoothies $6.99
See Blackboard for today's suggestions or make your own from the following ingredient options.
Carrots, Bananas, Mangos, pineapples, Peaches, Apples, Strawberries, Blueberries, Cranberries, Spinach, Kale, Beets, Orange juice, Apple Juice, Yogurt, Almond milk
Smoothie Enhancers:
Hemp Protein $2.00, Chia seeds $.75,
Flax seeds $.75, Fresh Ginger $.75,
Pure Local Honey $.75
Sundaes
Small $3.99 | Large $4.99
Includes 1 topping, whipped cream, nuts, and a cherry on top. Toppings include, hot fudge, butterscotch, and peanut butter. Ask about our fresh seasonal toppings.
20oz.Signature floats $4.99
Tootsie Pop -Grape soda with chocolate ice cream
Razz-ma-tazz – Sprite with black raspberry ice cream
Orange creamcicle – Orange soda with vanilla ice cream
Root beer float – A&W Root beer with vanilla ice cream
20oz. Milkshakes $4.99
We suggest the classics, vanilla, chocolate, strawberry and coffee.
Please call ahead for take out orders 860-295-1685